It in this week's edition of The Tuesday 12, we'll be looking at 12 essential supplies that are awesome to have in your classroom.  There are so many products that are beneficial to teachers; however, these 12 items will make your lives a little bit easier and let your classrooms run just a little more smoothly.
1. Squeegee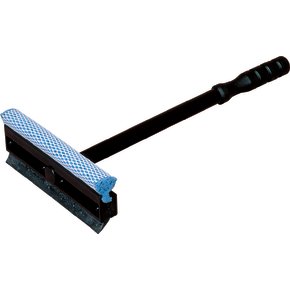 Source: http://www.carlislefsp.com/industrial-supply/vehicle-brushes/36286800
Do you want a sparkling clean blackboard? Head on over to the nearest hardware or automotive store and pick up a squeegee! The best squeegees for this job are the ones that have a sponge on one side to scrub the board and the rubber blade on the other side to remove excess water.  No messy hands, no drip marks, and boards dry super fast!
2. Personal laminator
Source: amazon.com
I love my laminator! Although it can't laminate large items (the largest is 9" x 14.5"), it's great to laminate tons of small items and comes in a variety of film thicknesses that provide extra durability for those items that go through a lot of wear and tear.
3. Label maker
Source: amazon.com
I bought my Dymo label maker at Costco because it came with a variety of tape cartridges (glossy, matte, transparent), so it was very cost efficient. If I could, I would label everything around me.
4. Personal paper cutter
Source: amazon.com
I use this Friskars paper trimmer when I do some crafting and use it on a regular basis to prepare items for my classroom.  Who doesn't love perfectly straight lines?
5. A level!
Source: homedepot.ca
And speaking of straight lines, I cannot live without a level in my classroom! It really comes in handy when I am putting up bulletin board items and hanging student artwork. I cannot stand to see crooked items on the wall, so my $2 level from the dollar store is a life saver!  Better yet, pick up a laser level!
6. Wet Erase Fluorescent Markers
Source: http://www.staples.ca/ENG/Catalog/cat_sku.asp?CatIds=&webid=11637&affixedcode=WW
These markers write beautifully on the blackboard and remain until they are wiped off with a wet cloth.  They are great for items that you want to be semi-permanent for a certain time period; for example, use them to write out the daily schedule, create a graphic organizer on the board, or keep important reminders up on the board for students.
7. The Desk Apprentice Rotating Desk Organizer
Source: staples.com
I have this organizer on my desk and it is a life saver! The middle section has space for hanging folders which I use to organize worksheets, items for each day of the week, and any other important piece of paper that lands on my desk.  The top portion has a small, hanging basket to organize items, while there are four corner organizers to store markers, pens, pencils, highlighters, and scissors.  Each side of the organizer provides extra storage for notebooks, papers, envelopes, and files. It is a great purchase!
8. CD Case
Source: http://www.teachingblogaddict.com/2012/06/organizing-bulletin-board-letters.html
What a creative idea! Normally I just use envelopes to store bulletin board letters, but I really like how organized the letters are in this case.
9. Velcro tape
Source: homedepot.ca
Velcro tape is great to use for areas of your classroom where you regularly rotate between a variety of materials.  Personally, I use it on my classroom jobs board, since students rotate between various jobs every two weeks.  Velcro would be great for words walls, daily or weekly schedules, or calendars!
10. Wrapping paper roles!
Source: amazon.com
Don't throw out those empty wrapping paper rolls! They are fantastic to store away posters and bulletin board décor. Simply roll up the item, place it inside, and label the outside of each carton (use the label maker!).
11. Curtain rod with clips (or pants hangers)!
Source: Hacks for Teachers
Another great Pinterest find! Check out the link above to see the step-by-step instructions.  This could easily be used to store bulletin board sets, anchor charts, bulletin board trim, seasonal items…
12. Spice rack!
Source: Greg Marino/Studio D from http://www.redbookmag.com/recipes-home/tips-advice/home-organizers#slide-3
This idea came from Pinterest (love Pinterest!) and it is such a great concept! Buy a spice rack (or repurpose one that you have at home) and use the containers to organize all those little odds and ends that are useful, but always end up everywhere! Jars for rubber bands, pushpins, paperclips, the possibilities are endless! Can't wait to use this in the classroom! (Check out the article link above for more ways to organize using a spice rack).
Don't forget to join us next week for another addition of The Tuesday 12!
Disclosure:  All ideas expressed are the author's own and compensation was not provided by any company in any way.